Social media platforms have dominated most businesses marketing efforts for several years now. And, choosing the best platform for your business can be tricky.
In this post, I will go through the top nine social media platforms. And, the pros and cons of each platform that can make a difference to your business.
The first thing to consider is who will be managing the platforms for you?
yourself
your staff
an agency or specialist
I'm not going to lie; social media marketing takes time to plan and take action. And, the constant requirement for content is also draining on resources.
However, done correctly, it can generate:
fantastic exposure for your business
allow you to engage with customers
keep your business front of mind
create a loyal following of customers
You can't just create an account and post every so often.
Social media marketing is about finding your tribe. To do this, you need to show up every day with value and benefits for your customers.
A common mistake lots of businesses make on social media is just using it for sales messages.
A different perspective
Put yourself in your customer's shoes, if all they see from you is "buy my stuff" posts. The customer will switch off from reading your posts and become blind to your business.
So, the secret is to align yourself with your ideal customer and deliver posts that will engage with their values.
There are lots of subjects you can post about depending on the platform you choose.
Side note: if there is one thing I have learned over the years, it is to choose a platform and learn everything about it.
Once you have mastered the platform and have started to see success, then you can add another platform.
In the beginning, if you try and market on several platforms at once, it becomes overwhelming. It's better to do one thing well than lots of things poorly.
As a confirmed introvert, I have mastered social media technically.
However, I have struggled with the polished fake world that's shown all too often.
I don't have the patience to take 100 selfies so that I can discard 99 to show my best fake life.
I can't continuously post veiled sales and self-promoting information about "how honoured I am to be mentioned by x."
For me, it's all about highlighting customers success, providing great content that could change your business. Delivering valuable content that teaches and saves customers time in their business.
The top nine social media platforms
There are an enormous amount of platforms to engage with customers. And, not just "social media platforms." I have listed below the top nine social media platforms by users with some tips on how to use them.
Please remember that each platform is a business and has a function of generating revenue for themselves.
The trade-off is that you get a free platform to find and engage with potential customers. And in return, the platform can sell advertising in your feed.
A word of warning with the amount of organic reach you will get on most platforms (reach = how many users or followers see your post). If the platform's monetised, (which most of them are) they are interested in you paying them for better reach.
Think about it, if each platform's business revenue model is to sell advertising, why would they give you high organic reach for free.
Example
So, as an example, when Facebook created business pages, you could post on your page and reach over 35% of your followers organically (for free).
Since the introduction of Facebook advertising, the organic reach overall has slowly gone down to about 2%.
When it comes to social selling, it doesn't matter how many users each platform has. What matters is the number of users who are your potential customers.
So, with that in mind, don't get fixated on the number of followers you have.
It's better to get fixated on the number of engagements (shares, likes, retweets) you have with each post.
For this blog, I will only be talking about organic reach on each platform. Look out for my blog post on paid reach coming soon (paid advertising).
I have found some great stats and numbers about social media on the Smart Insights blog.
Here's a quick snapshot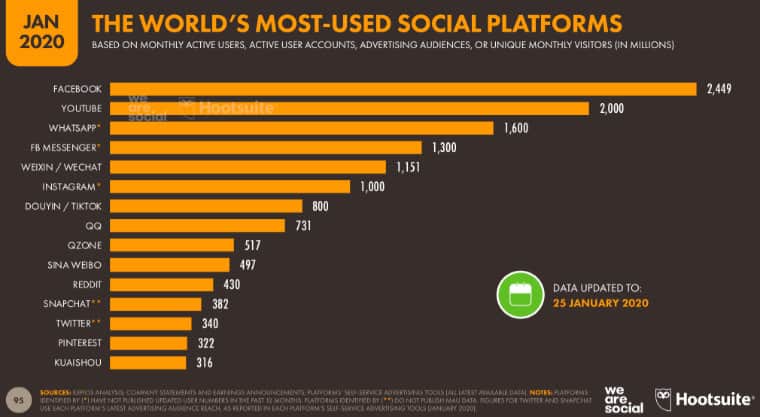 Facebook

It feels like Facebook has been around since the beginning of time. Weirdly it was launched in 2004 and has grown exponentially since then. It is now the largest social media platform in the world by user count.
Facebook has 2.498 billion monthly active users at the time of writing.
Demographics: Largest age category 25 to 54 with 60% female audience.
Purpose: building relationships and brand loyalty
Pros:
A large number of active users
The variety of types of posts such as text, image, video and live video
Private groups to get your customers into to develop a better one to one relationship
Great analytics
Cons:
Limited reach without a decent advertising budget
Takes consistent engagement (time-consuming)
Inadequate search engine (searching for people or businesses)
Without a mix of organic and paid reach, it's challenging to get traction
LinkedIn

LinkedIn started as an online business networking environment, online CV and job-finding site. Over time LinkedIn has become a much bigger platform with an emphasis on connection and engagement.
LinkedIn is not a "social" media platform in the traditional sense. However, over time the community aspect has grown. People don't go to LinkedIn for entertainment or online shopping.
LinkedIn has over 600 million active users.
Demographics: Largest age category 30 to 49
Purpose: News, articles, conversations for business development and B2B business
Pros:
Great for promoting business-related content
Built for finding and recruiting new talent
Easy to use as a search engine to find people and businesses
Cons:
Not designed for e-commerce
Difficult to contact large businesses
Full access requires a monthly membership
Twitter

Twitter was a brilliant platform in many ways straight from the start. One of the main benefits was the restriction on characters on each post (tweet).
Twitter was one of the first platforms to make use of #hashtags, allowing users to reduce the noise of so many tweets in their feed through lists.
This strategy means that Twitter is more of a real-time update platform.
So, Tweets can be text-only, text and image, text and video all with external links to your website.
Twitter has 330 million monthly active users.
Demographics: Largest age category 18 to 29
Purpose: news, articles, conversations and public relations
Pros:
Easy to engage followers and influencers
Free targeting with "#" and "@" mentions
more comfortable to talk directly to customers and prospects
Cons:
Lots of noise to compete with
Requires more posts (tweets) that other platform each day
Can drive website traffic but not necessarily sales
Pinterest

Pinterest went live in 2010 and is best suited to visually-driven businesses. Pinterest's main features are images and infographics. The platform is especially suitable for small creative businesses.
Users use Pinterest to plan for purchases, and 87% of polled users say they have purchased because of Pinterest.
Pinterest has 291 million active users.
Demographics: Largest age category 18 to 35 with 80% female audience (male audience is growing fast).
Purpose: "scrapbooking" Lead generation for clothing, art, home decor, photography and food businesses.
Pros:
Excellent potential for driving traffic
Low cost paid advertising
Over 40% of Pinterest users have a household income of over $100k
Cons:
Not suited for all businesses
Time-consuming to create and post consistent images and infographics
Difficult to stand out
YouTube

YouTube (owned by Google) is a video-based platform. Users go to YouTube for entertainment, research and to learn new things.
YouTube allows you to post several types of videos from lifestyle, travel, talking head, vlogs (video blogs) and live videos.
The secret to success when creating videos is to optimise for SEO as YouTube is the second biggest search engine.
YouTube has over 2 billion monthly users.
Demographics: Largest age category "all ages".
Purpose: brand awareness and service industry "how-to" content.
Pros:
Videos drive high conversions
A great way to showcase your brand, people, products or services
One of the best social media channels to engage and develop relationships
Cons:
Videos take longer to create and publish
Users increasingly have greater expectations for higher quality production of video and audio
Harder to get attention for your videos and requires a long term consistent publication plan
Instagram

Instagram launched in 2010 and soon became the go-to social platform. Facebook owns Instagram and has developed it as an alternative social media platform.
Instagram has the same access to the Facebook audience.
The benefits of its partnership with Facebook is that it can also use the Facebook paid advertising system.
Instagram is a visual platform with images and videos driving attention.
Instagram has over 1 billion users every day.
Demographics: Largest age category 18 to 29.
Purpose: building relationships and conversations, lead generation, especially for retail, art, food, entertainment and beauty businesses.
Pros:
Appealing visual aspect to the platform
Taken over in popularity from Facebook for the younger generation3. Created specifically for the mobile market and users
Fully set up for e-commerce
Cons:
Difficult to gain insights and analytics
Needs high level of posting strategy
Requires high-quality images
Facebook Messenger

Messenger is a separate platform from Facebook. Messenger allows Facebook users to send direct messages to each other, and business pages can do the same with followers.
One of its uses is for lead generation with links to external websites or shops on Facebook.
You can also create in-depth automated messaging for users who contact your Facebook page.
Facebook Messenger has access to the entire Facebook audience.
Demographics: same as Facebook.
Purpose: building relationships and conversations, lead generation.
Pros:
Access too the same audience as Facebook
Automation with enquiries that can go through a set of questions and answers
Easier to have a high reach with organic adverts
Cons:
Can switch off your audience if used badly
Not focused on e-commerce
Requires the user to initiate the conversation
Snapchat

Snapchat has many things in common with Instagram. The platform allows users to send images and videos directly to other users or their Snapchat story.
A "Snapchat" sent to another user is only able to be viewed once.
In contrast, a Snapchat story (or business story) can get views for 24 hours.
Snapchat has over 350 million monthly active users.
Demographics: Largest age category 18 to 24.
Purpose: building relationships and conversations, lead generation, especially for retail, art, food, entertainment and beauty businesses.
Pros:
Appealing visual aspect to the platform
Created specifically for the mobile market and users
A large younger user base
Cons:
Difficult to gain insights and analytics
Needs high level of posting strategy
Requires high-quality images and videos
Quora

Quora launched in 2010 and is another platform that is not a "social" media platform in the traditional sense.
However, it is a fantastic platform to teach and learn.
The central premise is that users post questions to the community. And, other users with expertise can answer those questions.
Quora allows you to show your expertise on specific subjects and increases your authority in your field. The net result is sending traffic to your website.
Quora is a great place to search for questions in sectors that you have expertise. Answering questions gets attention from other users that are interested in the subject matter.
You can highlight information on a post or video that you have published on the subject in your answer and drive traffic.
Users can "upvote" your answer giving it more authority and higher rank in the list of answers.
Quora has over 300 million active users.
Demographics: all ages
Purpose: Building brand awareness, authority and trust.
Pros:
300+ million active users
Free to use
the opportunity to answer questions in nearly every field or sector
Cons:
Knowing the right questions to search for
answering questions without being overly self-promoting
Social media platforms summary
The key takeaways from this post are that social media takes time, effort and consistency. Done right, it can generate new and repeat business. Poorly done, it can consume all your time with little or no return.
Most B2B businesses are likely to use the platforms to get attention, engage and point the user to their website. And, most B2C companies can sell products on or within some of the platforms through their e-commerce integration.
Choosing the right social media platform for your business should reflect the demographics and what the platform can do for your business.
Always have a purpose and goal from utilising social media and focus on delivering those areas.
I hope this post has helped you and given you the answers to your questions.